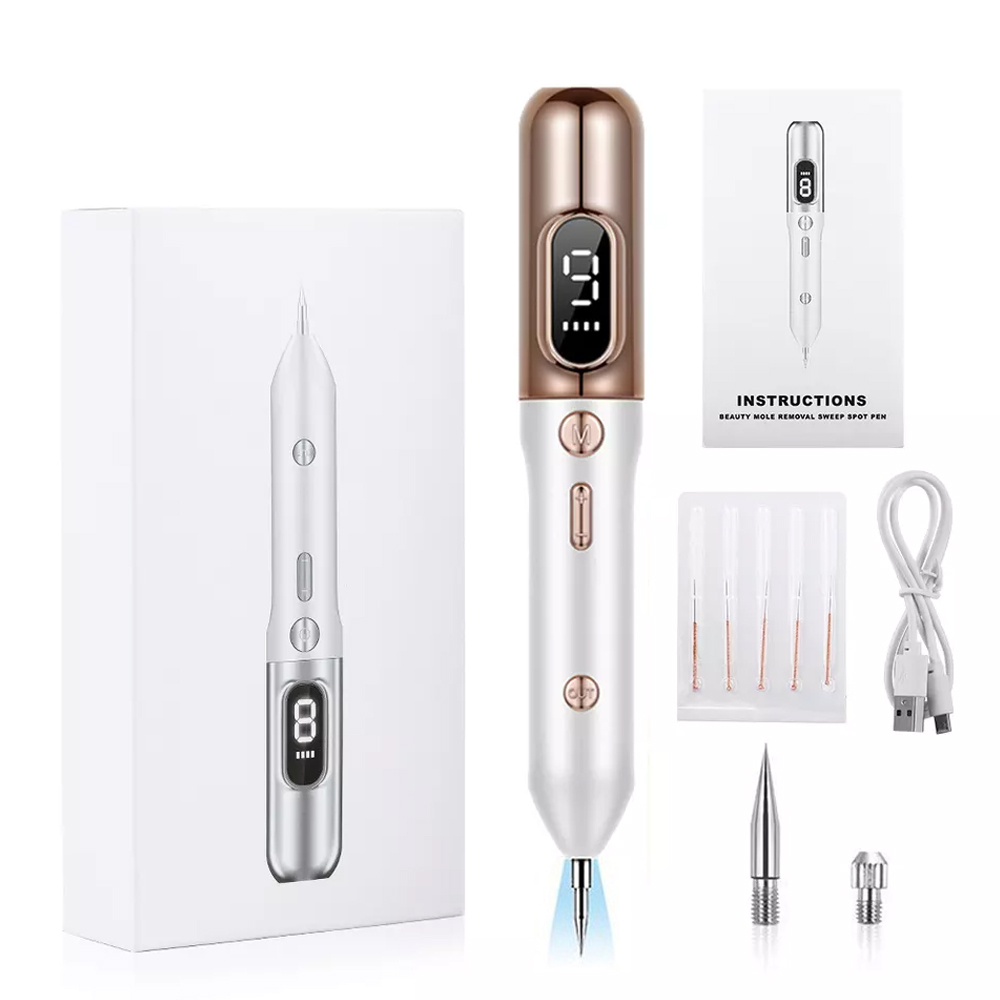 ${data.index + 1}/12
Mole Remover Pen, Rechargeable Skin Tag Remover with 9 Strength Levels & LED Spotlight, Portable Skin Tag Remover for Wart,Nevus, Age Spots,Small Tattoo and Freckle - Great for Home Use
Who would want such irritating skin tags that are right in the middle of their beauty?
Not everyone wants to undergo surgery every time they have these moles or warts growing out of their body.

This is why we recommend using this simple, effective, and safe method which removes the tags without damaging unintended areas of the body.

This skin tag removal pen works by heating up the unwanted tissue using a gentle electrical current so that it can be removed.

It is highly effective against mole removal, age spots, pigmentations, freckles, warts, etc. We provide you with an instruction manual that is easy to follow in order to get rid of them as fast as possible.
Specification:
Item Type: Beauty Mole Spot Scanning Pen
Display: LED Display
Levels: 9 Levels Speed Control
Charge: USB charging
Lamp: Lighting Spotlight
Color: Gold/White/Silver
Material: ABS+PC
Voltage: 5V
Power: 4W
Battery Capacity: 1200mAh
Charging Time: 2h
Size: 190*28*29mm
Weight: 209g
Function: Get rid of moles early, mole, granulation, small meat, age spots, fat granules, flat wart, spot, black spots.
Feature
【ADVANCED & SAFE MOLE REMOVER PEN】Upgraded Generation of the skin tags remover pen adopted with advanced Germany carbon-ionization technology with low temperature and high frequency.No bleeding,No sensation of being shocked by electricity and No side-effects.Comfortable and fast to remove freckles, skin tags, nevus, dark spots, birth marks, etc. Make the skin smooth without any pigmentation or blemishes.
【EFFECTIVE SKIN TAG REMOVAL】9 Adjustable levels for different skins.LCD Display shows the working level and battery level clearly.Convenient and practical USB charging with security chip.Built-in Bottom LED Spotlight makes your work more precise and effective.Come with the 5/30 fine needles and 2/4 coarse needles which can satisfy your face or body needs.
【AT HOME ECONOMICAL MOLE REMOVAL PEN】With this portable and delicate mole and skin tag remover ,everyone can remove skin tags by themselves anywhere at any time in a private and safe way.Conveniently and Practically save your time and budget. DON'T HESITATE, JUST BUY IT!
【HOW TO USE】Simply turn on the skin tag removal pen, choose the gear you want, then hold and press the OUT button and gently sweep targeted spot from back to front with small area. You can adjust different levels according to your needs. Click the ON/OFF button to switch the speed level 1~9. For more detailed instruction, please look through the user manual.
【SAFE AND CONVENIENT】It is safe without side effects. Perfect gift for mother, girlfriend, female friend, daughter.
Adjustable Strength
This skin tags remover has 9 adjustable strengths. Users can choose the level according to their skin tolerance. With LCD screen, working status, battery status, headlight status and strength are displayed.
Safe & Effective Skin Tags Remover Pen
Adopting the new generation of plasma micro-district discharge technology allows for no bleeding, no sensation and no side effects. A very safe and effective skin tag removal pen.
Two different pen tips
The fine tip on the lower gears targets small birthmarks, freckles and other small pigmentations. And the rough tip on low and high gears to hit larger moles, freckles, warts and nevus.
Set A
1*Removal Pen
1*Needle Sleeve
5*Fine Needle
1*USB Charging Cable
1*Engish Manual
1*Box
Set B
1*Removal Pen
2*Needle Sleeve
30*Fine Needle
1*Skin Tag Remover Patch
1*USB Charging Cable
1*Engish Manual
1*Box
Usage Steps
Step 01 choose the proper needle and install it on the open point
Step 02 after wiping the needle with alcohol, screw on the needle
Step 03 power on (Press the"M" button for about 3 seconds)
Step 04 Press "+" or "-"button to select the appropriate strength level
Step 05 Press OUT button to start working.
Step 06 Release the OUT button to stop working.
Step 07 Press the "M"button for 3 seconds to turn off the pen.
Kindly Reminder:
Patience is much crucial, Please be sure to read the instructions carefully before use.
1. The sting caused by the pen is tolerable, make sure to find the comfortable level, combine with numbing cream if necessary.
2. Sterilize and disinfect the needles before use.
3. Testing it on a small patch of skin first.
4. Do not stay for too long on one place.
5. Put it on a safe place to avoid kids touching.