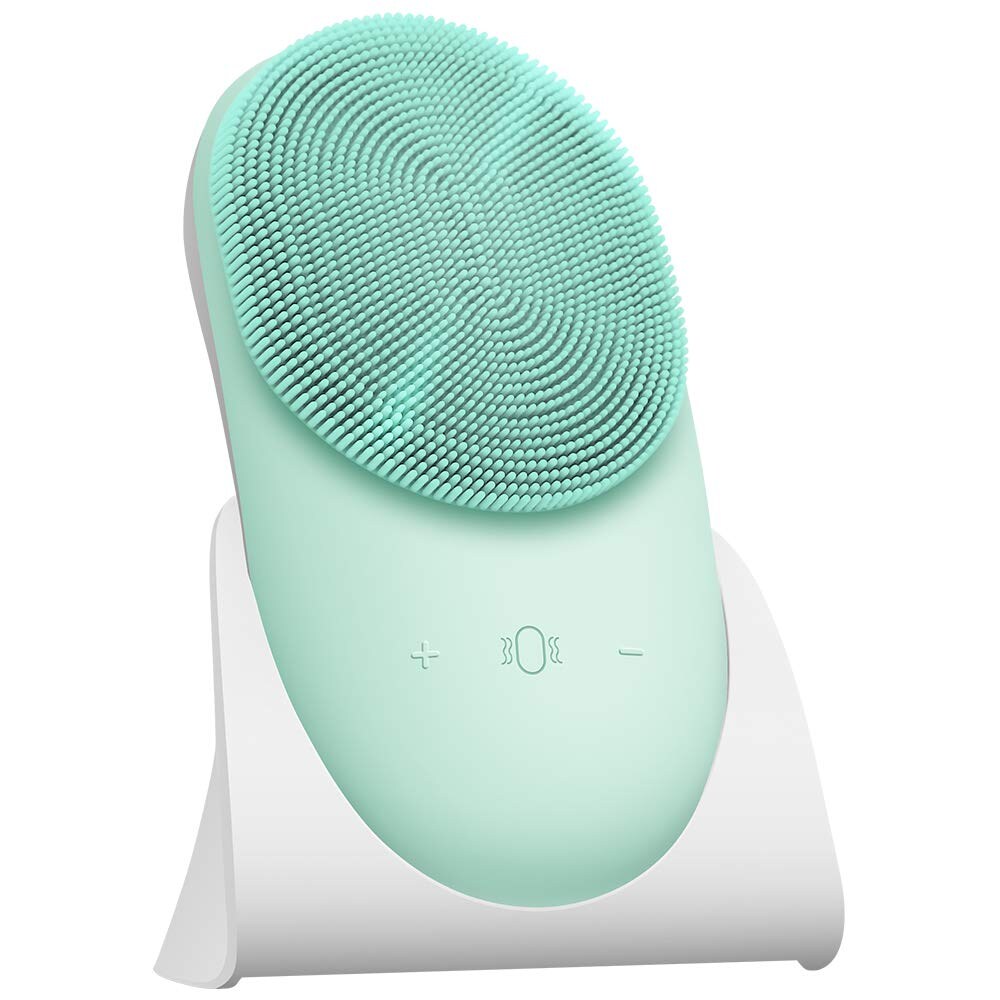 ${data.index + 1}/9
One time shopping = Face massage + Sonic cleaning + Heat Import
Buy it now,enjoy face spa
Feature
1. 8 power levels to meet all needs
2. Sonic cleaning to eliminate 99.5% of dust
3. Heated massage&Import and export mode, unique technology
4. 35X more hygienic than spinning brush
5. 6X more effecient than spinning brush
6. Dual modes. One side for deep exfoliating&gentle cleansing, the other side for heated massaging
7. Replacement battery and brush head isn't required
8. Waterproof charging port-perfect for shower
9. No pain from spinning brush
10. More hygienic medical grade silicone material
3 in 1 multi-function:Facial cleansing, thermal SPA, eye massaging
This Facial cleansing brush is made of food-grade silicone, High-frequency sonic technology that efficiently removes cosmetics residues, cutin, dead skin, acne and dark head and diminishes pores. Dual modes. One side for deep exfoliating&gentle cleansing, the other side for heated massaging.
HIGH FREQUENCY SONIC VIBRATION
8 Speeds adjustment,high frequency up to 14000 times per minute, 10x more effective in cleansing face. Enhance the sonic directly to the pores, shake the dirt and makeup residue, improve clogged pores, blackheads, skin oil.
HEATED MASSAGE
The metal area on the back has a heated massage function which helps open pores to achieve deeper cleanning and the absorption of care products. Heated massage facial muscles to increases collagen & Elastin, reduces fine lines, which making your skin firming& glossy.
SKIN-FRIENDIY SILICONE
It is made of food-grade silicone, which is easy to clean and dries quickly, it will not breed bacteria.This facial cleansing brush is as soft as hands to the skin without stimulation, when cleaning and massage, it will not damage the skin barrier.
IPX7 WATERPROOF
This electric facial cleansing brush designed to use in the shower. The face brush can be directly to soak in the water. Washable and durable for daily use.
HOW TO USE
1: Apply Cleanser
Dampen your face and apply your favourite cleanser.
2: Massage clean
Turn on the cleansing device, and choose the right working mode and vibration intensity.
3: Apply skincare products
Rinse and dry your face.Apply additional skincare products as desired.
4: Heated massage
With heatable feature by press the heating switch to massage moisturizer into skin.
USING TIPS, 3 MODE
1. Long press to enter cleaning mode(9 adjustable speed), show blue indicator.
2. Short press once to enter the second mode:cleaning and heated massaging, blue indicator flashes.
3. Short press once again to enter the third mode: just heated&Import and export mode, show red indicator.
4. Long press to turn off, the indicator off.