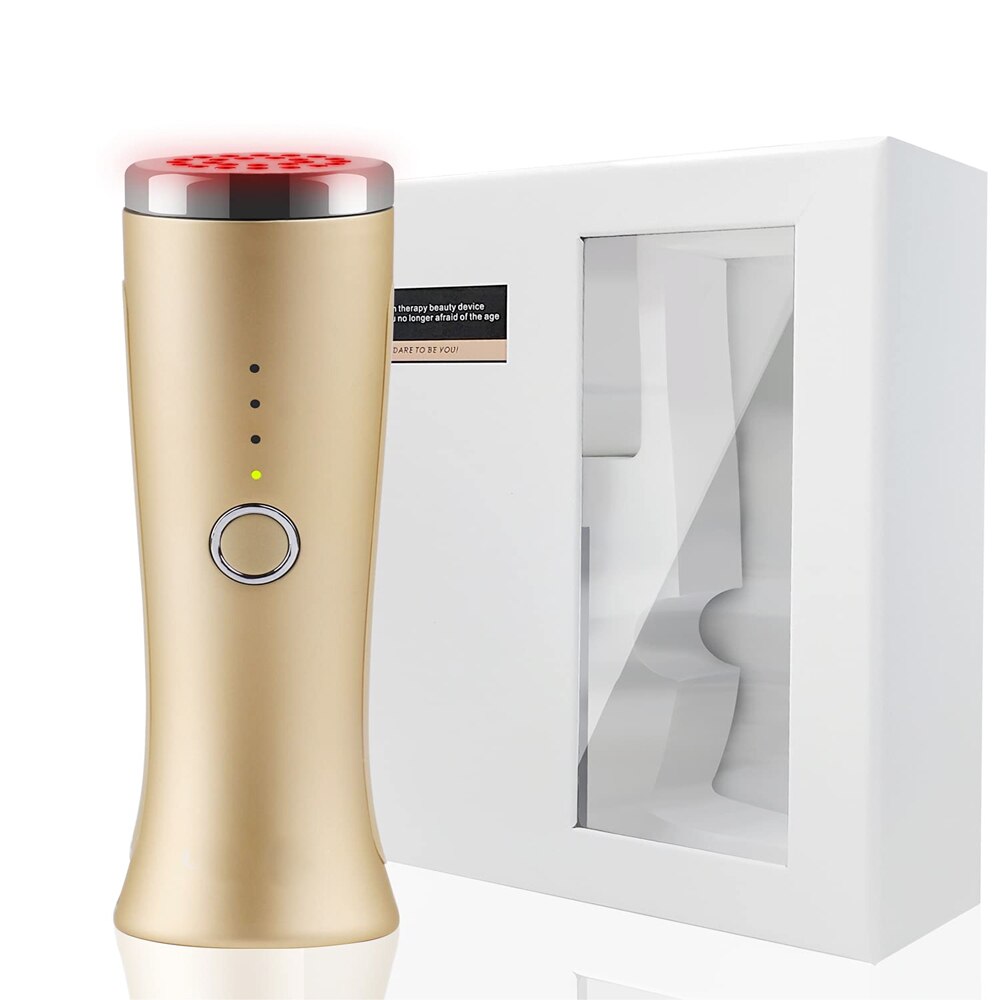 ${data.index + 1}/6
Red Light Therapy Devices LED Light Photon Therapy Facial Skin Massager For Face Skin Tightening Care Machine for Anti Aging,Wrinkle Removal,Face Lift,Skin Rejuvenation,Skin whitening, Skin treatment Beauty SPA Machine
Safest Red Light Therapy Devices For Your Beauty
It works for all skin types, and is non-invasive, painless, and without downtime. People can return to their normal activity immediately after the treatment.
Ready for a beautiful, wrinkle-free skin?
Would You Like to Have a Firmer, Younger Looking Skin? Then our anti-aging device is for you! As simple as that.
Our anti aging device is based on a proven anti-aging technology, Light Emitting Diode (LED) photon therapy
This Infrared LED Technology Will Benefit Your Skin :
Description
-Color: Glod
-Material: ABS,304 stainless steel probe.
-Size: 14.7x4.9x4.9 cm/5.79x1.93x1.93 inch.
-Plug type:US plug.
Output voltage (DC): 10.5V 0.4A.
Power: 4.2W.
Input voltage (AC): 100V-240V, 50HZ/60HZ.
Battery capacity: 3.7V, 900mA.
Charging time: 3H.
Use time: 2H.
Use cycle: 2 times a week, 10 minutes each time.
What's the Red LED Light Device?
The Red Light Therapy is effective for wrinkles and anti-aging issues. It promotes a natural photobiochemical reaction, which enhances cellular metabolism, accelerates the repair of damaged skin cells, as well as stimulates the production of collagen. It has been clinically proven to be very effective for anti-aging and pain relief purpose and have been using in many hospitals.
Function:
21pcs of wavelength: 625nm red LED lights: The red lights can penetrate the surface of human skin to the deepth: 8-10 mm, that can initiating the activity of various Enzyme enzymes, particularly proteases in the human body by whole body or local red light irradiation. It promotes the body's own production of a large amount of collagen and elastic cells to achieve a beauty anti-aging effect.
4pcs of wavelength: 855nm far infrared lights:These far-infrared lights can avoid harmful rays in the sun and give energy to skin cells that can promote skin cell renewal.
What You Get
1 * Facial massager
1 * Power Adapter
1 * Usage manual
How to use
Step 1: Remove all make-up.
Step 2: Apply lotion/serum on the skin till absorption.
Step 3: Turn on the device.
Step 4: Move the wand on your skin and start the treatment.
Buy it for your skin care
You can use the cordless handheld lamp anytime, anywhere at home or while traveling.
When to use
Treatment Time: 5~7 minutes for each area, max 28 minutes for a session.
Treatment Interval: 3 times a week for the first month. Then use as needed, normally once a week.
Skin Care: Follow up with your daily skin care routine after the treatment.