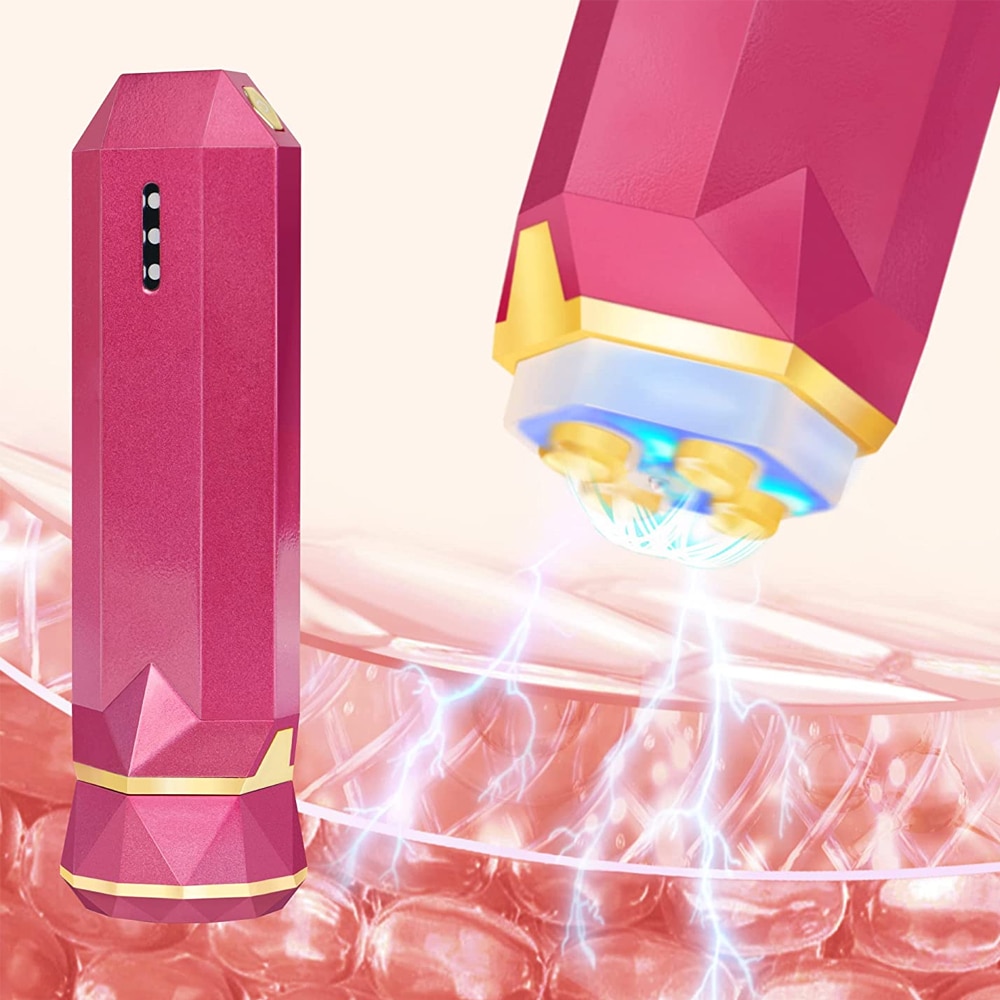 ${data.index + 1}/6
New Radio Frequency Skin Tightening Machine Microcurrent Face Lift Device, RF & EMS Technology 2 in 1 Skincare Tool, Professional Facial Massager for Anti Aging Wrinkle Rejuvenation
Skin tightening machine combines radio frequency and EMS technologies to renew and regenerate skin
Product Functions:
Stimulate collagen and elastin fibers production
Smooth skin
Reduce wrinkles & fine lines
Tighten sagging skin & Lift skin
Improve skin elasticity
Restore brightness and tone to the skin.
Remove edema and acne
Reduce redness
Eliminate acne marks
Specifications:
Name: Radio Frequency Skin Tightening Machine
Material: Aluminum, ABS Plastic
Colour: Rosered
Adapter Output Specifications: 5V-1A
Charging Time: About 2 hours
Battery Capacity: 1200mAh
Technology: RF Radio Frequency Technology & EMS Technology & Red Light and Blue Light
RF Frequency: 1MHZ
Maximum Power: 6.7W
Led Wavelength: 620-630nm
Time for Automatically Turning Off: 6 minutes
RF Mode: 3 Adjustable Intensity Levels
EMS Mode: 3 Adjustable Intensity Levels
Usage Time: 60 Minutes
Use Environment: 10-35℃
Product Size: 40*40*148MM
Product Weight: 120g
Feature
【2 Technologies in 1 Instrument: Radio Frequency + EMS】This micro current beauty device combines radio frequency and EMS technologies to renew and regenerate the skin. It can reduce the appearance of fine lines & wrinkles, and lift facial contours. Let you enjoy a professional beauty spa treatment at home. It is portable and rechargeable.
【Anti Aging Multi Radio Frequency Device】With multi radio frequency applied to this beauty device, interchanging radio frequency waves will evenly distribute heat in the dermis layer to stimulate collagen and elastin fibers production, which will smooth skin and reduce wrinkles & lines. It helps tighten sagging skin, improve skin elasticity, and restores brightness and tone to the skin. It is effective in improving sagging, preventing skin from aging, and promoting lymphatic & blood circulation.
【EMS for Skin Tightening and Lifting】 In EMS mode, this face massager will release gentle micro current. This will help stimulate ATP production, collagen secretion and the proliferation of epidermal cell. It also helps activate collagen fiber, improve sagging, reduce wrinkles, and increase blood circulation to achieve the effect of removing edema, lifting and tightening skin. Effectively restore the elasticity and luster of the skin. Promote the absorption of skincare products.
【Two Types of Wavelength: Red Light & Blue Light 】 The red light with wavelength 630+/-5nm is helpful for skin tightening and rejuvenation. It will also help repair the damage collagen layer. The blue light with wavelength 415+/-5nm is for removing acne. It is anti-inflammatory. It also helps reduce redness and eliminate acne marks. This revolutionary technology repairs collagen and elastin fibers from the inside out. It is the best tool to take your skin to the next level.
【3 Adjustable Levels for both RF and EMS Modes 】 This skincare machine is designed with 3 gears, which represent 3 different levels of intensity in RF or EMS mode. Please select the appropriate intensity level according to your skin sensitivity to avoid discomfort. It is recommended to start from the low intensity level. Please note that this skin tightening machine will automatically turn off 6 minutes later after it is turned on.
Package Includes:
1 X Skin Rejuvenation Device
1 X USB Power Cord
1 X User Manual