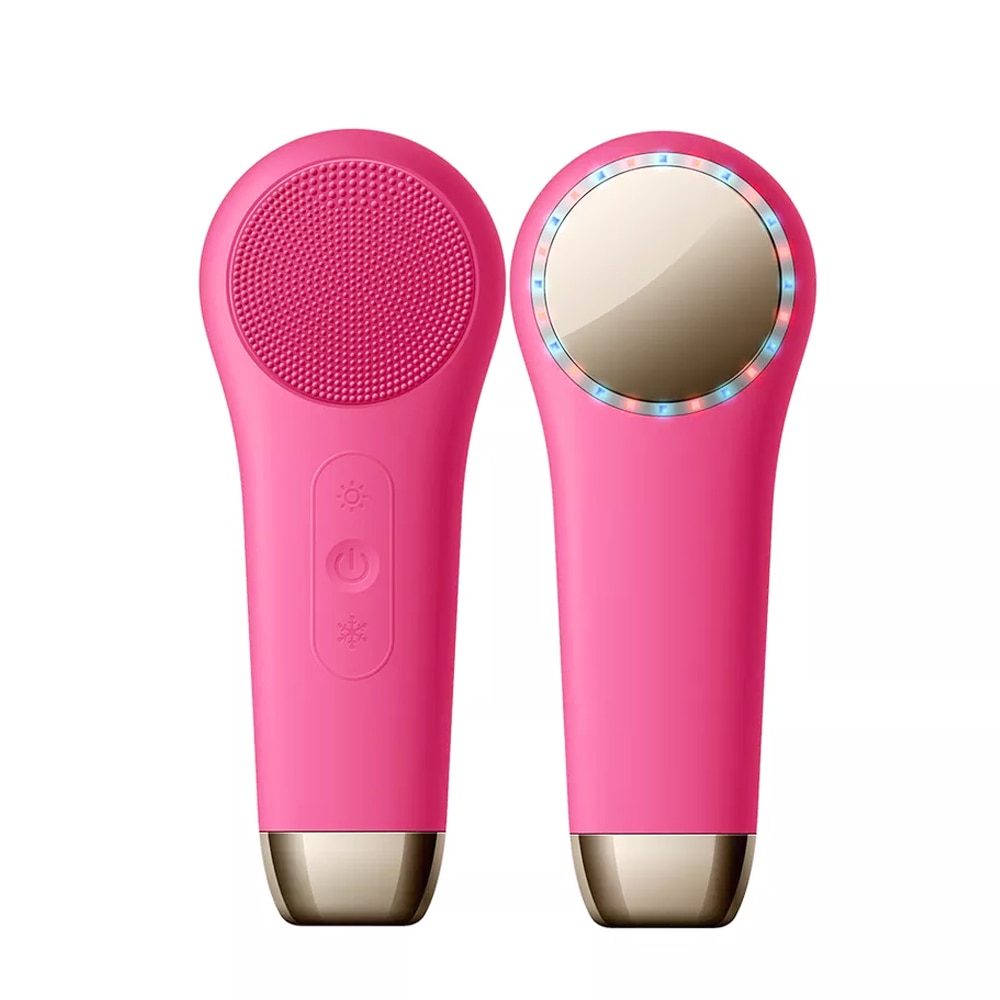 ${data.index + 1}/9
Specification
Type: Heat & Cold Rechargeable Facial Cleansing Brush
Charging Voltage: 5V / 1A
Maximum Power: 9 W
Battery Capacity: 500mAh
Technology: Heating, Cooling, LED light Care, Vibration
Waterproof Grade: IPX7
Vibration Gear: 2rd Gear
Vibration Frequency: 7200 Times/min
Light: Red/Blue light
Hot Compress Temperature:38-42°C
Cold Compress Temperature: 10-12°C
Charging Time: 1.5 hour
Application:For Home Use
Product Size: 140 x 57 x 33.2 mm
Weight: 256g
Heat at 38-42°C to Open Pores for Better Deep Cleansing
As a silicone facial cleansing brush, we innovatively designed a 4.2cm diameter circular heating zone on the top of the back. When you press and hold the "sun" icon button for 2 seconds, the temperature will rise to 38-42° in about 3 seconds. You can use this function for secondary cleansing after initial makeup removal or to enhance the nutrient absorption of skin care essences.
Cool to 10-12°C to Better Shrink Pores
We know that many customers like to use ice rollers, ice packs and other cooling tools that can be used safely on the face, so we also set the "snowflake" button. From heating to cooling only need to wait about 3 seconds. This electric facial cleansing brush will a good choice for tightening pores, relaxing eye bags, and invigorating the spirit.
IPX7 Waterproof
We researched the majority of rechargeable sonic face cleansing brush on the market and ended up producing a IPX7 waterproof level that far exceeds the standards of our peers. With food-grade skin-friendly silicone and a rose gold chassis, technology and beauty go hand in hand, making this facial cleansing device an excellent beauty gift.
A More Effective Face Brush Cleanser
Did you know that deep cleansing your skin daily with a sonic facial cleansing brush effectively penetrates the skin to remove dirt, oil, dead skin cells, and pore-clogging makeup? Say hello to the cleanest skin ever! We have designed 2 cleansing modes for your convenience to make the most appropriate choice for different skin conditions.
Zoned Silicone Bristles for Fine Cleaning
For the fan-shaped area at the top of the bristles, we chose thickened and thickened silicone bristles to effortlessly treat areas that need special attention, such as the nose and neck. Change the holding angle for better cleansing, exfoliation and massage. Make your skincare routine easier and more comfortable.
Q: How do I turn this cleansing brush on or off?
A: 0n/Off Button: Long press for 3 seconds to turn on/off, the default 1s Vibration mode, short press to adjust the vibration gear (weak gear, strong gear),double-click to turn on/off the vibration.
Q: How does the Hot Compress Button work?
A: In the power-on state, short press to turn on the hot compress mode;the red light is turned on by default, and double-click to turn on/off the red light.
Q: How does the Ice Compress Button work?
A: In the power-on state, short press to turn on the ice compress mode;blue light Is turned on by default, double-click to turn on/off the blue light.*The ice compress function works by default and turns off automatically after 3 minutes.
Q: How do I know the machine is about to run out of power?
A: When the battery is low, the indicator light flashes 5 times and then shuts down; when charging, the indicator light keeps flashing; when it 1S fully charged, the indicator light stays on.