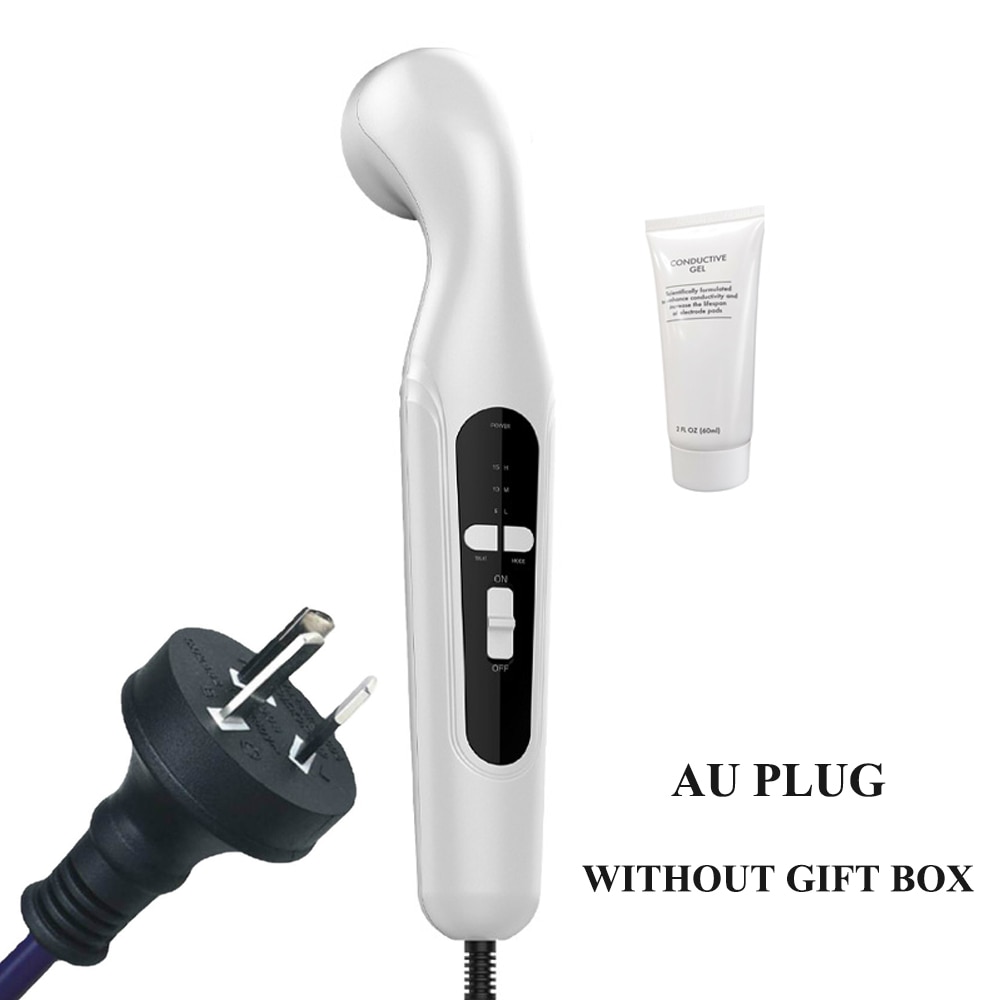 ${data.index + 1}/14
Portable Pain Relief Devices Therapeutic Physiotherapy Equipment Ultrasound Machine For Physical Therapy
Ultrasound therapy is natural and green therapy with no side effect, no radiation, non-toxic, etc.
Ultrasonic physiotherapy can relieve shoulder, elbow and waist pain and effectively treat muscle pain
Specification
Item Type: Ultrasound Physiotherapy Therapy Machine
Material: ABS
Rated Voltage: 100-240V, 50/60Hz, 600mA
Frequency: 1MHz
Function: Muscle & Joints Pain Relief
Smart Timer: 5 /10 /15min Timing
Mode: 3 Gears(1 MHz --- 82mm depth ---- 100 Million Times Micro Massage)
Effective Radiation Area (AER): 4cm²
Temperature: 42℃ Constant Temperature
Effective Ultrasound Wave: 3.0W/cm²
Duty Cycle: Low 30% -- Medium 40% -- High 50%
Effective Sound Intensity (Ie): (L)0.72 W/cm²±20%/(M)0.96 W/cm²±20%/(H)1.20 W/cm²±20%
Scope of Treatment: Arthritis, rheumatoid, neck and shoulder pain
Waterproof Grade: IPX7 (for ultrasonic probe only)
Product Size: 202mm x 49mm x 70mm (LxWxH)
Weight: 700g
Feature
Analgesic Effect: This muscle therapy machine destroys the membrane of nociceptors, inhibits the generation and transmission of pain signals, and has analgesic effect. It is suitable for people who work for a long time or whose body muscles are often in a stiff state, to help relax the body and mind and relieve fatigue.
Promote Metabolism: This pain relief instrument can improve the permeability between cells, promote blood circulation and metabolism, help you excrete waste from the body, effectively improve your health, stimulate acupuncture points, improve microcirculation, improve blood circulation, and promote cells metabolism.
Promote Bone Healing: The pain relief ED massager can promote bone remodeling and healing, promote the dissolution of calcified fibroblasts, promote metabolism, and effectively target bone tissue diseases, such as: delayed fracture healing and nonunion, early adult femoral head necrosis, Help you restore health.
High Performance: The shockwave therapy machine can also improve the metabolism of the treated area and reduce inflammation in the affected area. Shockwave therapy can also promote tissue recovery and help you improve your health. It will not cause damage to your normal tissue cells and avoid Possibility of surgery and related risks.
Easy to Use: The pain therapy machine adopts humanized design, provides settings, is easy to operate, and has complete functions. The analgesic effect of shock waves therapy equipment is more obvious than other physical therapy equipment. It is especially good for relieving shoulder pain and is suitable for osteoarthritis.
Some Function
Relieve Pain
ldeal for reducing scar tissue
Cellulite reduction
Reduce inflammation fast
Sciatica pain arthritis pains and joint pain
Sports injuries-Neck & shoulder pains, ankle injuries, groin injuries
HOW DOES ULTRASOUND WORK?
Ultrasound therapy has been widely used for about 80 years. It belongs to the national basic treatment program, which
used to be applied to pain department and rehabilitation and physiotherapy department,now it comes to family used.

Ultrasound is applied to the body using the ultrasound probe, an ultrasound gel is used to transmit the ultrasound wave into the surrounding body parts. The ultrasound wave can penetrate to a maximum depth of 7cm and deep heat is produced.

The continuous sound waves travel deep into the tissue and induce vasodilation, which helps increase blood flow to the treated area and is found to help relieve pain and reduce muscle spasms. It comes uniquely equipped with a soundhead pre-warming feature on an ergonomically designed sound head for increased patient comfort. Before starting therapy the soundhead preheats so that it's more comfortable and warm. Once therapy is engaged, the pre-warming feature turns off to allow for the most effective treatment.

With three output intensities, and three treatment time selections, the aluminum sound head is watertight for use in underwater therapy (for 30 minutes), though only the metal portion is watertight - you can not submerge the entire sound head.This new and improved portable therapeutic ultrasound unit is a great choice for non-invasive pain relief. No more pain meds or pills, this unit is very similar to the one used in your Chiropractor's or Physical Therapist's office.Very effective in pain relieve!.