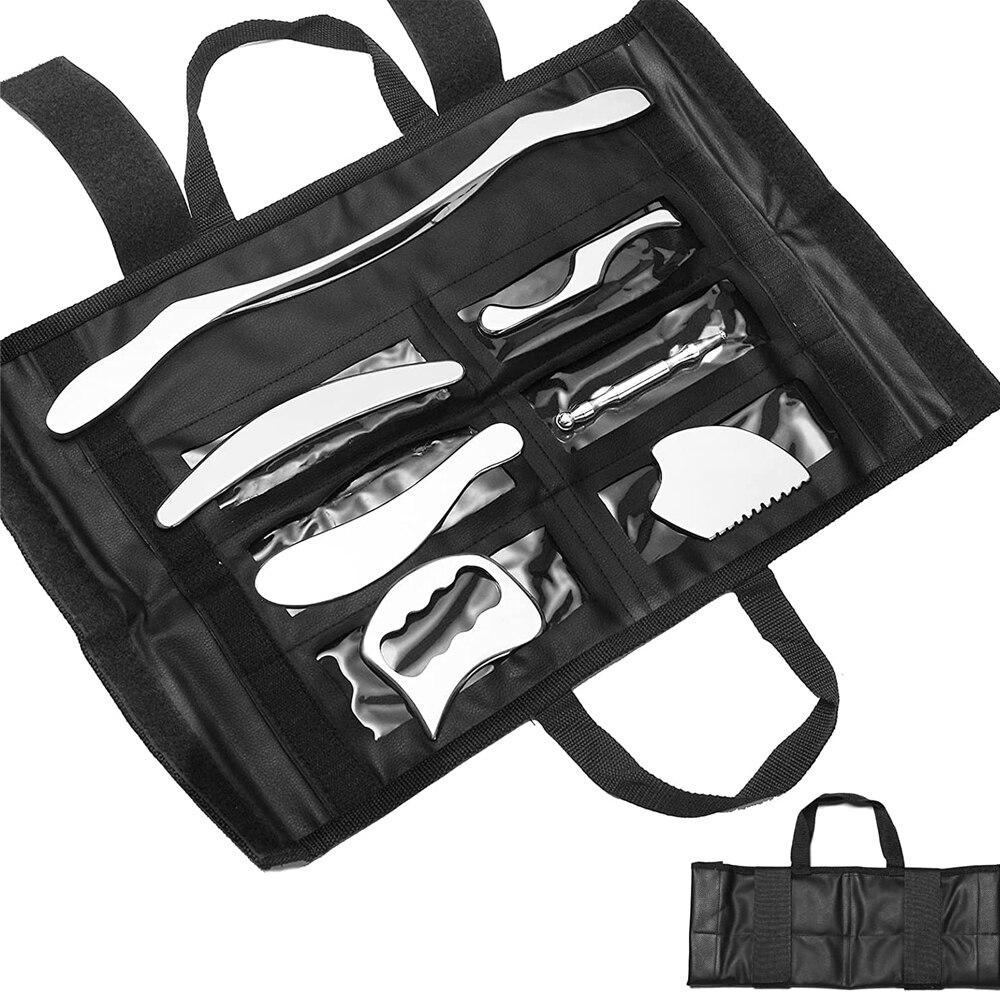 ${data.index + 1}/7
Professional Stainless Steel Gua Sha Scraping Tool Set of 7 Pieces Massage Tool Muscle Scraper Tools for Soft Tissue Therapy Physical Therapy -Scar Tissue,Used for Back, Legs, Arms,Neck,Shoulder
There are 7 Pieces IASTM physical therapy instruments of various sizes and shapes that work on all parts of the body, from the neck to the delicate parts of the foot and ankle.
What is IASTM?
* ASTM is a therapeutic method to promote the regeneration of soft tissue. It has successfully solved many problems, including chronic Achilles tendinitis and scar tissue leading to exercise limitation and pain. It promotes the reabsorption of scar tissue by the body and promotes the regeneration of injured tissue.
* ASTM has two important functions. One is to destroy abnormal healing tissue, such as scar tissue, and restart the normal healing process. Iastm is more like a mild injury to the tissue, which makes the body start the correct healing process again, and finally achieve the purpose of relieving pain and treatment.
Does it work?
Although results can vary, patients can typically notice improvements in pain and/or range of motion by the end of the first or second week of treatment.
Feature
Medical grade quality: Made of high-quality stainless steel, polished to the mirror-like surface, massage tools are durable, smooth, and easy to clean and provide sensitive support for massage.
Function: The coolness of the metal feels soothing against the skin. Soft tissue massage tools are designed to help effectively treat adhesion and scars caused by surgery, injury and overuse of muscles, injury prevention, and rapid recovery - use of double inclined edges, reduce muscle soreness after exercise, improve recovery time, and treat soft tissue injury.
Systemic Care: 7 different instruments that allow precise treatments for different size individuals. It is designed for many areas of the body, such as the back, forearm and pectoral muscles. The side with larger radian can be used for arms, etc. and the side with smaller radian can be used for back and thighs, etc. It can be used by chiropractors, physiotherapists, occupational therapists, sports coaches or masseurs.
Usage: It can be used with body emulsion or massage oil to coat smooth edges on the smooth skin surface, press hard down, and then move down muscles - so-called friction - gentle massage - or along the path of acupuncture meridians, along the skin. On the surface, gently massage about 4-6 inches at a time.
Protective Packaging Bag: The scraping massage tools come in an attractive, protective bag. Inside the bag are 7 independent spaces of different sizes to secure the individual tools. It is super light but sturdy enough for general protection during transportation.
Conditions Well-Suited for IASTM
*Achilles Tendinitis
*Shin Splints
*Low-Back Pain
*Muscle Strain
*Trigger Finger
*Scar Tissue
*Tennis Elbow
*Soft Tissue Problems
DIRECTIONS
- Use the tools dry over thin clothes or apply lotions, massage oil on the skin before using the tools
- Gently apply pressure on trigger points using up and down strokes firmly within your comfort grade
- Scrape each targeted area with the tool for about 3-5 minutes
- Use at least once a day. Frequency is subjective based upon personal preference and comfort level
- After scraping, drink a cup of warm boiled water to supplement the body's consumption of body fluids, promote metabolism as well as accelerate the discharge of metabolites
- Keep the tools dry
Tips:
In the scraped area, if the skin has ulceration,damage, to the skin it is not appropriate to scrape.
The waist, abdomen and ankle of pregnant woman are not allowed to scrape.
Do not wash cold water within half an hour after gua sha scrapin
After scraping massage, drink a cup of hot boiling water to supplement the body's consumption.
Great Gift Idea
This is a favorite gift for people who love sports and health. It can make their exercise more effective, and their skin looks better, smoother and moisturizer.