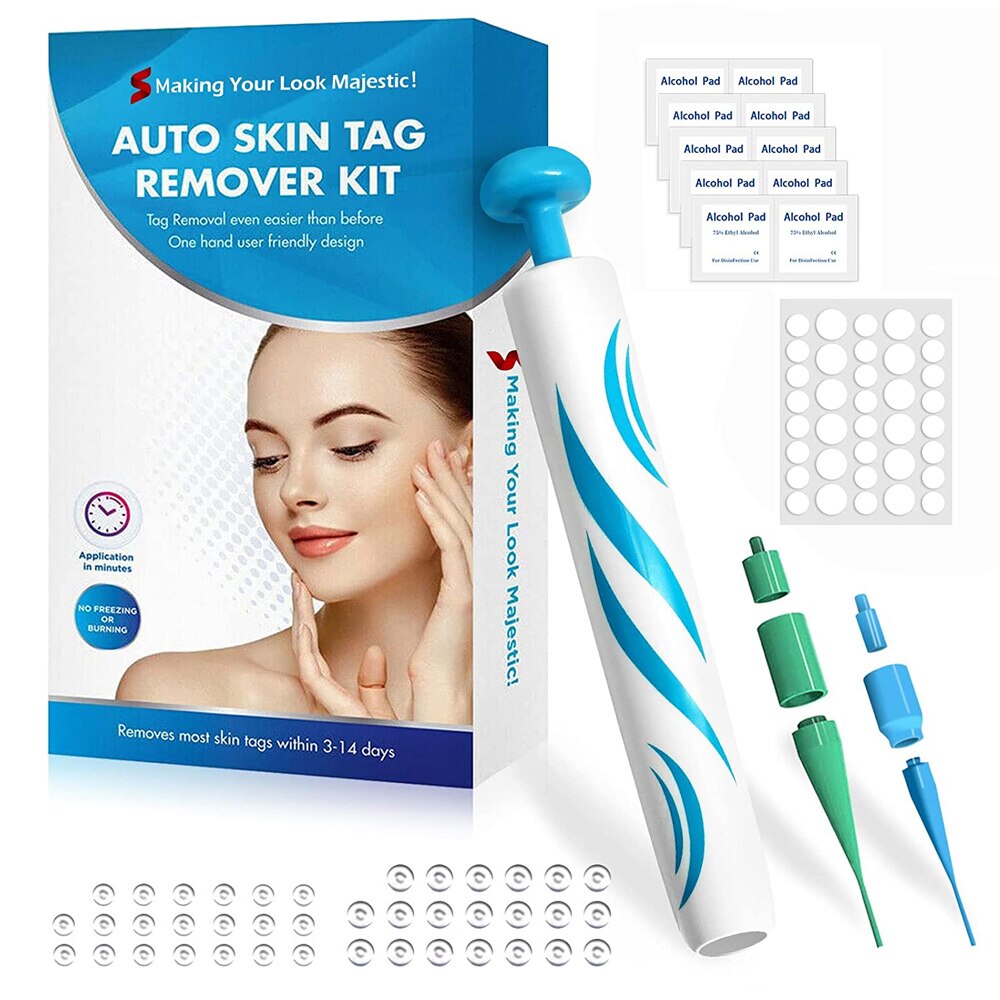 ${data.index + 1}/8
2 in 1 Skin Tag Remover - Auto Skin Tag Remover Pen with 40 Micro and Regular Skin Tag Bands, User-Friendly, Safe and Painless Remove Small to Large (2mm-8mm) Sized Skin Tags
Eliminate Skin Tags Almost Everywhere: our micro and large skin tag remover set is suitable for your face, neck, chin, armpits, under breast, legs, back or fingers. NOT suitable for eyelids.
Annoying Tag!
If you're looking for a safe and painless way to get rid of skin tags, you've come to the right place.
Because Skin Tag Remover
So you can finally get rid of those unsightly skin tags and regain your confidence. It's completely painless, and you've already suffered enough.
Specification
Product Name: Skin Mole Remover Device for Small to Medium
Color: Blue
Material: Rubber, ABS+Silicone
Tag Size: 2mm - 8mm
Technology: Works by quickly stopping the skin tags blood supply
Applicition: For small to medium skin tags
Target Area: Bikini/Intimate, ARMPIT, Lips, Legs/Arms, Body, Face
Skin Tags Peeling Time: 9-15 days
Package Included:
1 x Skin Tag Remover Pen
3 x Regular Green Band Remover
20 x Regular Bands(4-8 mm)
20 x Micro Bands(2-4 mm)
3 x Micro Blue Band Remover
10 x Cleaning Wipes
1 x Clear Instructions
Feature
Easy-To-Use: For Small To Large (2mm - 8.5mm) Skin Tags: Just follow the simple instructions and remove skin tags without any pain or discomfort.
Safe & Painless To Get Rid Of Skin Tags: Remove skin tags at the comfort of your home with the natural, chemical-free skin tag remover tool, which effectively eliminates those stubborn growths.
Maximize Efficiency, Eliminate Skin Tags: Life is too short for putting up with skin tags. Now you can avoid costly and painful invasive cosmetic procedures with the skin tag removal kit, which effectively removes skin tags and leaves your skin smooth and healthy.
2-IN-1 Set: Our skin tag remover kit includes regular-sized and micro-sized devices which can fit small to large (2mm - 8mm) Skin Tags.
Suitable For All Body Parts: Our effective skin tag removal products are ideal for getting rid of annoying skin tags (NOT moles or warts) on any part of your body, including your face, neck, chin, back, underarms, fingers, or legs.
What You Get
*1 x Skin Tag Remover Pen
*3 x Regular Green Band Remover
*20 x Regular Bands(4-8 mm)
*3 x Micro Blue Band Remover
*20 x Micro Bands(2-4 mm)
*10 x Cleaning Wipes
*1 x Clear Instructions
How To Use
1. Clean the skin tag and surrounding area with cleaning swabs.
2. Attach the cone to the device then roll a band down the cone onto the device.
3. Remove the cone from the removal device.
4. Place the device over the skin tag then push the button to release the band.
Why choose us? What is our advantage?
This skin tag remover is designed in consideration of a painless,cost-effective and efficient skin tag removal procedure that you can complete in the comfort of your home. This skin tag remover is naturally chemical-free,non-irritating chemicals, and no secret ingredients,making it safer to use.This skin tag removal kit contains everything you need for a smooth and user-friendly experience without leaving permanent marks,while the repair patch seals the wound and protects it from inflammation,speeding up the healing process.The skin tag removal kit focuses on providing comfortable and user-friendly skin tag removal solutions that positively affect your self-confidence and skin health. Whether you are a novice,a beginner or an experienced person,you can remove skin tags without wasting money,time and energy on expensive beauty or surgery appointments!
Question: Skin tag turned black but rubber band won't stay on now will it fall off?
Answer: Your skin tag is dead if it's black. It will fall off in a couple of days.
Question: After they are remove do they leave scars?
Answer: The closer you get bangto the base of stem and skin surface level, the better the result. You might observe a very slignt skin color difference in some instances after the skin tag is completely gone. But not a scar. Basically all you're doing is cutting blood flow to the skin tag so that it shrivels and falls off. As such your skin is really healing over in the process. When the tag is gone, the skin below is already sealed whole. No scarring.
Question: This doesn't help with small skin tags, does it?
Answer: Depends on how small.. if the rubber band cannot hold it tight, it won't work. Some of my small skin tags keep falling off, so I put a bandage, or tape, and it helps prevent falls. Generally 2-8mm skin tags will be more suitable and will not fall off