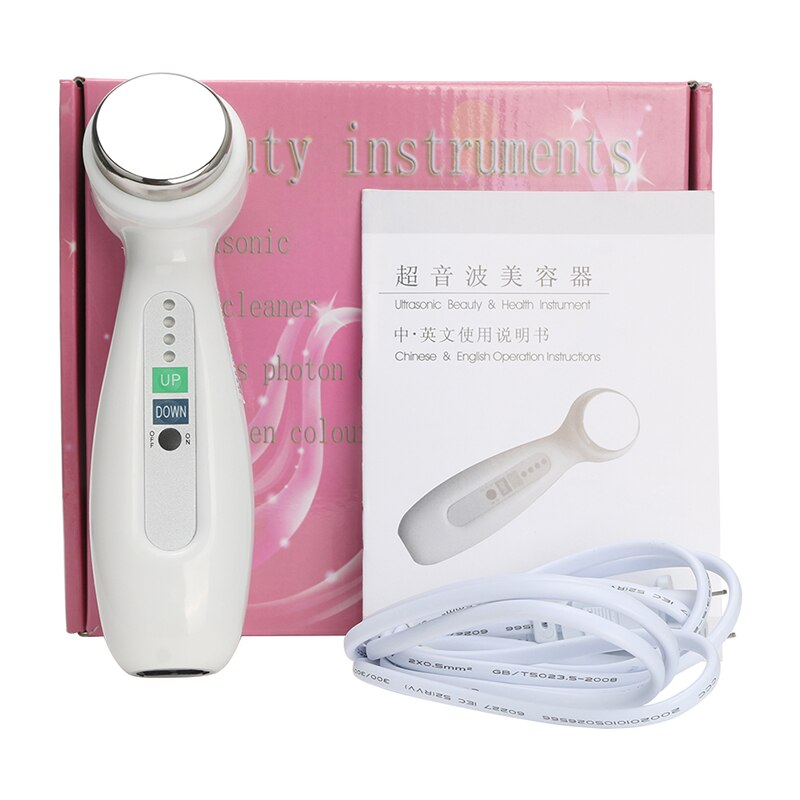 ${data.index + 1}/10
Home Use 1Mhz Ultrasonic Facial Body Skin Care Cleaner Pain Therapy Face Lift Skin Tightening Deep Cleansing Wrinkle Removal Beauty Care Device
Ultrasonic utilizes sonic vibrations; it works million times per second. The ultrasonic wave could stimulate skin tissue and improve permeability of the membrane to promoted collagen tissue, reduced wrinkle and invisible appeared fine line, also lift the skin result for younger and healthy look. Ultrasonic ge
Specification
Material: ABS
Voltage: 100-240V
Frequency: 50-60Hz
Power: 10W
Ultrasonic Frequency: 1MHz(Million Times /Second).
Timer: 15 Minutes
3 Mode: Low/Medium/High
Color: White
Application: For Home Use
Treatment Area: Facial, Body
Size: 20*15*4.3cm
Weight: 234g
(EU/US plug ,AU/UK adapter for your country )
Feature
Skin cells, reduce wrinkles, tender skin, bright color.
Introduction to penetrate the skin care products, from about 10% to more than 60%.
Makes the subcutaneous tissue movement, activation of cells, reduce puffiness of the face, smooth tissue

Import skin care products is enhanced absorption and accelerating diffusion.
Improvement of microcirculation, inhibiting facial varicose, improve dry skin and skin aging lines, waste, detox.
Each massage works up to 15 minutes and then device is turned off automatically.
Three level energy output(weak,medium,strong).
Two output options availlable (continuous waves and pulse waves)
Removing wrinkles, black spots, acne, fat.
A necessary beauty equipment for men and women, young and old.
How to Use
1. Press button "ON OFF" button (the black round one) to turn on the massager. The lowest light is on .
2. Press button "UP" (the green one) to increase the energy of ultrasonic waves. Press button "DOWN" (the blue one) to decrease the energy of ultrasonic waves.
3. Press button "ON OFF" button (the black round one) to turn off massager after use.
4.When applying the massager on thicker parts of subcutaneous tissues such as the waist, hips, thighs, select the high ultrasonic waves
5.When applying the Massager on parts like the muscles and where fatty layers appear thinner, select the lower ultrasonic waves.
6.For daily use, 1 times a day, less than 30 minutes once
7.clean your skin before use, we can use it with some gel according to different type of skin.
Package include:
*1 x Body Skin Care Machine
*1 x AC Adaptor
*1 x English Manual